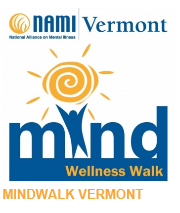 M.I.N.D. stands for Mental Illness Non-Discrimination. NAMI Vermont stands for families and individuals who need mental health care because it is health care, like any other kind of health care. We stand against mental health stigma in public policy, employment, and housing. We stand for all those who have faced hardship, crisis, death and loss at the hands of mental illness.
We stand (and we walk) for the hope of recovery and the courage of those to continue to strive for productive and meaningful lives with mental illness every day.
Please join us in giving a voice to the one in five members of the Vermont community that live with mental illness.
To register or to donate, please go to the link below.
http://namivt.org/walk/
Look for Team LCMHS!