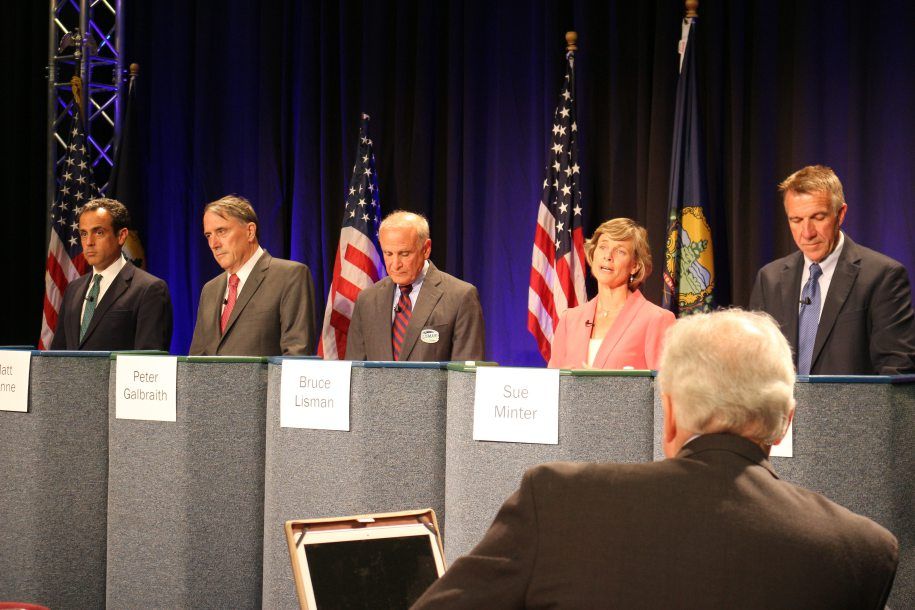 Photo by Erin Mansfield/VTDigger
On June 27th, the leading gubernatorial candidates discussed health care issues.
In case you missed and it and would like to hear their views on Community Health and Support Services, you can watch the forum on line.
Link:
http://www.vermontpbs.org/videoplayer/?v=2365792180
The Debate was covered by VT Digger.
Link:
http://vtdigger.org/2016/06/28/candidates-for-governor-square-off-on-community-health-issues/?utm_source=VTDigger+Subscribers+and+Donors&utm_campaign=2ac802b0d0-Weekly+Update&utm_medium=email&utm_term=0_dc3c5486db-2ac802b0d0-384045138
Additionally, the story was covered by WPTZ news channel 5
Link:
http://www.wptz.com/news/vermont-candidates-for-governor-discuss-funding-mental-health-addiction-challenges/40252426
The Sponsors*:
Vermont Care Partners
VCP provides statewide leadership for an integrated, high quality system of comprehensive services. The 16 non-profit, community-based member agencies offer care to Vermonters affected by developmental disabilities, mental health conditions, and substance use disorders.
The Community of Vermont Elders (COVE)
COVE promotes and protects a higher quality of life for Vermont's elders, through education and advocacy. COVE is committed to working toward a state in which resources, education, information,
and support services are available and accessible.
VAMHAR
The Vermont Association for Mental Health & Addiction Recovery is a statewide advocacy and education organization that supports all paths to recovery from addiction and mental health conditions.
VNA Association of Vermont
Vermont's VNAs provide a range of high quality, cost-effective home health and hospice services while promoting client self-determination and independence.
Vermont Association of Area Agencies on Aging
Vermont's five Area Agencies on Aging offer services and supports to seniors and their families, including information and referrals, nutrition programs, case management, caregiver support, transportation access, wellness programs and more with the vision that every Vermonter deserves to age with health, independence, and dignity.
Vermont PBS
*Unfortunately, all of the sponsors were not clearly indicated on the Vermont PBS or other media. We offer our apologies for this omission. Additionally, number of member agencies, particularly the Howard Center, contributed to creating this event.