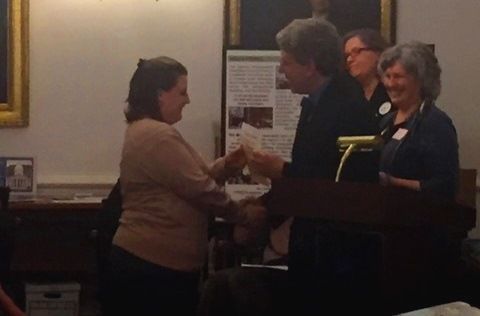 On March 23, 2016, Tara Audet received from Roy Gerstenberger, Developmental Disability Services Division Director from the Department of Disabilities, Aging & Independent Living (DAIL), her Certificate of Completion of the Vermont Leadership Series. The certificate was presented to Audet during Disability Awareness Day at the Vermont State House in Montpelier.
The Vermont Leadership Series is an intensive, three-weekend training for people with intellectual or developmental disabilities or their family members. They are designed for people who feel comfortable speaking up and listen well to others, are open to new ideas and eager to make a difference in their community. Participants receive high quality training from experts in the field, connect with other leaders, discover and learn ways to make positive changes, and learn leadership skills. To become a leadership participant one must be nominated by one of the advocacy or support organizations in developmental disabilities in Vermont.
LCMHS is very excited and proud of Audet's accomplishments!
If you would like to learn more about the Vermont Leadership Series, please contact our Developmental Services Director Jennifer Stratton.