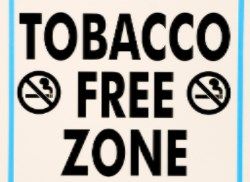 On July 1, 2015, Lamoille County Mental Health Services implemented its new tobacco-free campus policy. Tobacco use is prohibited on all LCMHS property, with the exception of consumers living in LCMHS residential facilities. The tobacco-free campus policy supports the health and well-being of both employees and consumers and complies with new State mandates for designated agencies.
LCMHS has partnered with 802Quits in transitioning all employees to a tobacco-free workplace and continues to work with 802Quits to help consumers make that transition as well. The new policy also aligns with LCMHS' commitment to employee wellness. The LCMHS employee wellness program has been consistently recognized by the Governor's Council on Physical Fitness and Sports as encouraging and enabling employees to improve their overall health.
The Centers for Disease Control and Prevention estimates that more than 1 in 3 adults with a mental illness smoke cigarettes, compared with about 1 in 5 adults with no mental illness. In addition, the federal Substance Abuse and Mental Health Services Administration (SAMHSA) stated in a 2011 Advisory that smoking tobacco causes more deaths among consumers in substance abuse treatment than the alcohol or drug use that brings them to treatment.
"We agree with the Vermont Department of Health that allowing our staff to use tobacco at work creates the impression that tobacco use is not really a substance abuse problem. For our consumers, tobacco addiction can impede recovery from other substance addictions and mental illnesses, so we want to support their recovery as much as possible," said Savi Van Sluytman, chief executive officer of LCMHS.