Resilience Film Screening and Panel Discussion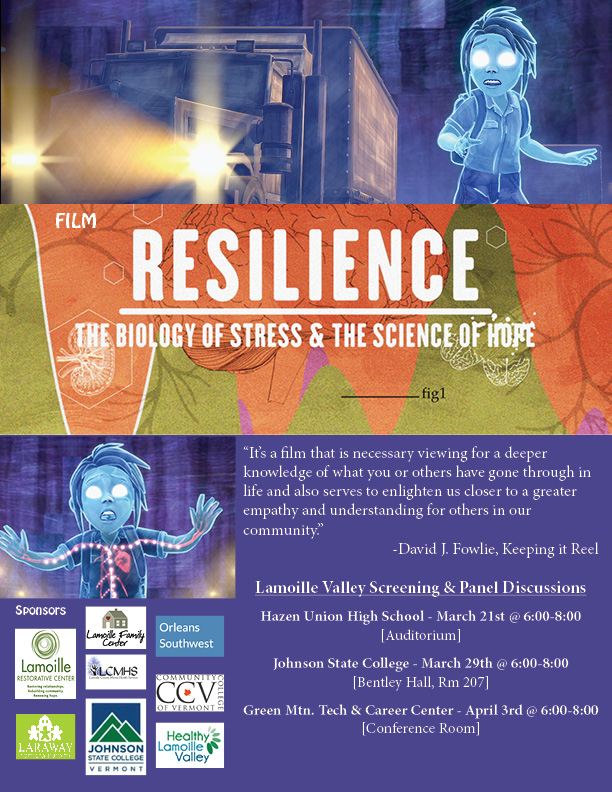 "The child may not remember, but the body remembers."
The original research was controversial, but the findings revealed the most important public health findings of a generation. RESILIENCE is a one-hour documentary that delves into the science of Adverse Childhood Experiences (ACEs) and the birth of a new movement to treat and prevent Toxic Stress. Now understood to be one of the leading causes of everything from heart disease and cancer to substance abuse and depression, extremely stressful experiences in childhood can alter brain development and have lifelong effects on health and behavior.
However, as experts and practitioners profiled in RESILIENCE are proving, what's predictable is preventable. These physicians, educators, social workers and communities are daring to talk about the effects of divorce, abuse and neglect. And they're using cutting edge science to help the next generation break the cycles of adversity and disease.
A must see for everyone in our communities!
Screening Dates and Locations:
6:00 PM – 8:00 PM
126 Hazen Union Dr.
Hardwick, Vermont 05843

6:00 PM – 8:00 PM
Bentley Hall Rm 207
337 College Hill Road
Johnson, VT 05656

6:00 PM – 8:00 PM
738 Vermont Rt 15
Hyde Park, VT 05655
This film is seen as an important event by many across our region and is brought to you by Orleans Southwest Supervisory Union, Lamoille Restorative Center, Laraway Youth and Family Services, Lamoille Family Center, Lamoille County Mental Health, Johnson State College, Community College of Vermont and Healthy Lamoille Valley.