GATSA Member Receives 2016 Deborah Lisi-Baker Youth Leader Award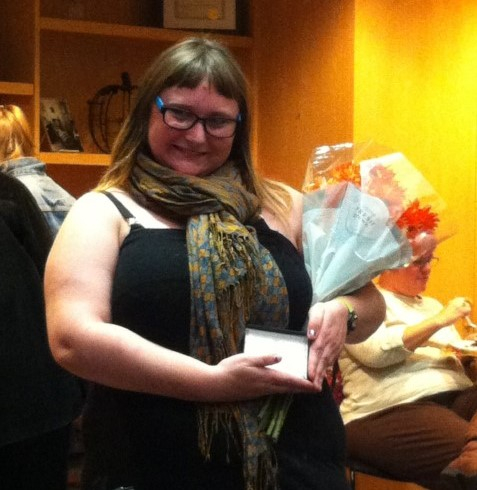 Last month, Erika Dow received the 2016 Deborah Lisi-Baker Youth Leader Award from the Vermont Center for Independent Living (VCIL).
Erika is a young woman attending Maple Hill School in Plainfield that has recently taken more of an active interest in her community as well as her local self-advocacy group of LCMHS - GATSA - Getting Acquainted Through Self Advocacy.  Erika has been attending bi-monthly GATSA meetings and some monthly GMSA (Green Mountain Self-Advocates) meetings and joined self-advocates from around the state for the annual Voices and Choices Conference in Burlington this past May.  Erika volunteers at NCAL (North Country Animal League) and enjoys walking the dogs and playing with the cats.  Erika is interested in continuing education through the College Steps Program and possibly attending either Lyndon State College or Johnson State College once she graduates from Maple Hill.  Erika is a vibrant young woman who loves to contribute and be involved, she has had many great ideas which she has shared with her local self-advocacy group around doing outreach in local schools to speak with students about bullying, respectful language, and education around the autism spectrum.  Recently Erika headed efforts to identify an individual to give a CPR/First Aid training to her local self-advocacy group.  Erika's self-advocacy group, GATSA would like to nominate Erika for the Deborah Lisi-Baker Youth Leader Award as they believe her passion and commitment to helping others and her sense of leadership around advocacy is going to lead her to great places and they want to further inspire her interests and show their collective appreciation!
The Deborah Lisi-Baker Youth Leader award recognizes youth (up to age 22) in our communities that exemplify leadership skills in their organizing efforts and advocacy skills while promoting the rights of people with disabilities. 
VCIL knows that there are young people in the disability rights community that are leaders of today and are working to ensure the rights of all people with disabilities through their work in social media, advocacy, writing, filmmaking, community service, presentations and the arts.