May Is Mental Health Month
The stigma around mental health and treatment has long existed, even though this has started to change. Still, people hesitate to seek help or even talk about it with their loved ones for fear of being judged and facing unnecessary backlash. Simple logic dictates that if one is hurt anywhere, one must seek treatment to get better. This applies to both our mental and physical well-being. This month LCMHS will be sharing daily information and articles related to mental health on our Facebook page and website. We hope that these articles will help anyone that might need the love, care and the message being carried. Please feel free to share our Facebook page posts. We will also be using the hashtags #MentalHealthVT #MentalHealthIsOK and partnership with other Designated Agencies.
Governor Phil Scott signed a proclamation for May is Mental Health Month.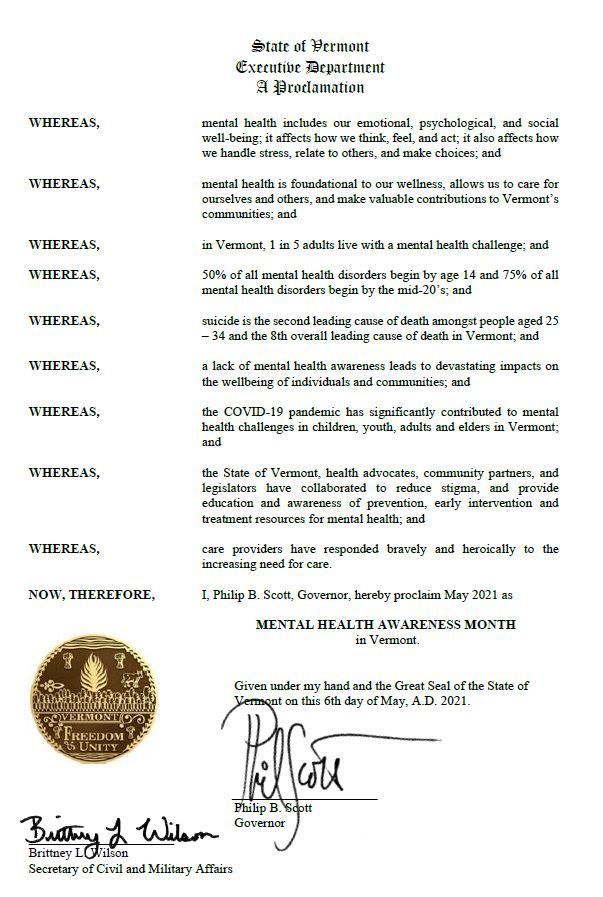 Additionally, the Senate passed a concurrent resolution developed Senator Kitchel with support from Vermont Care Partners.